Do you want to have a vegan Thanksgiving this year? Right on! In this post, I've gathered up tons of traditional yet vegan Thanksgiving sides and desserts you can consider. I hope you enjoy your holiday and I'd like to thank YOU for being plant-based!
Vegan Thanksgiving Desserts
1
Vegan Apple Pie & Pumpkin Pie
The perfect vegan apple pie recipe, based on a classic American version. This one has a crunchy streusel upper crust that's irresistible!
Vegan Pumpkin Pie
This vegan pumpkin pie is the easiest ever! Made with canned pumpkin and coconut cream. No one will ever guess it's vegan!
2
Gluten Free Vegan Pecan Pie
Gluten Free Vegan Pecan Pie is free of corn syrup, eggs and butter and tastes even better than your favorite pecan pie! This pecan pie is sweetened with maple syrup and coconut sugar and has a gluten free almond flour crust. You can feel good about adding this to your holiday table, and perhaps even having seconds.
3
Vegan Pumpkin Cheesecake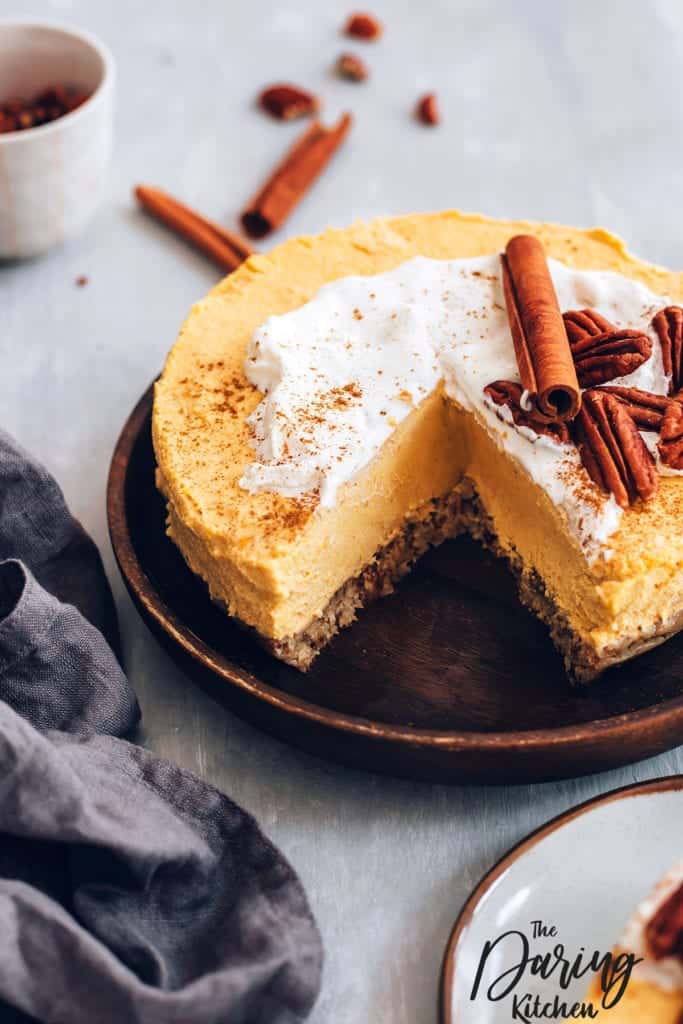 With Autumn in the air, its time to treat ourselves with all the deliciousness this season has to offer. This vegan pumpkin cheesecake is just that. It has all the elements of a classic cheesecake. But, without the…cheese!
4
Crustless Pecan Pie without Corn Syrup (Gluten-Free, Vegan, Paleo)
This easy Crustless Pecan Pie is made without corn syrup, is gluten-free, vegan, and paleo! This healthy, lower sugar, egg-free, dairy-free, and grain-free recipe for the classic holiday dessert has all the flavors you know and love with sugar-free and keto options! A sweet and nutty Southern treat perfect for Thanksgiving!
5
Pumpkin Cake Recipe with Quinoa Flour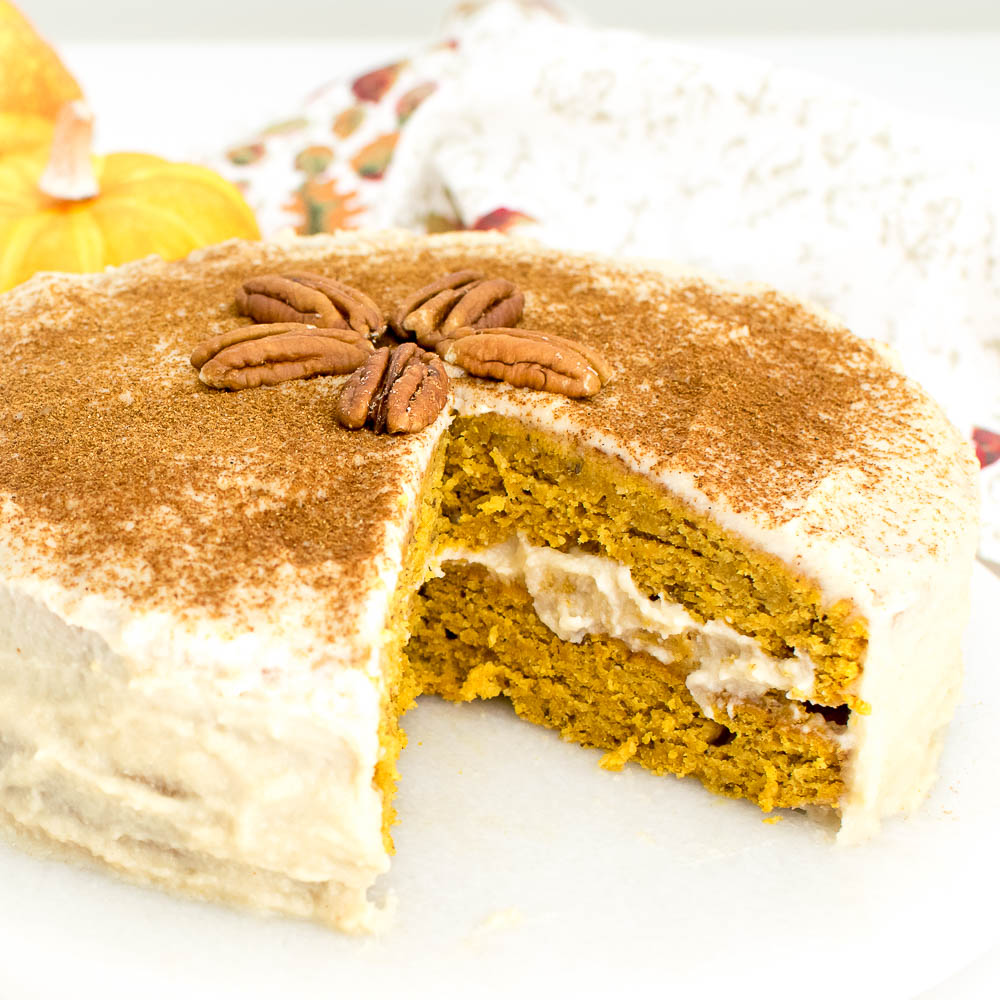 This Pumpkin Cake is made with Quinoa Flour and is oil free. It is soft, moist, baked to perfection with all the fall flavors.
6
Vegan Sticky Date Puddings
This Dairy-Free, Egg-Free and Vegan Sticky Date Puddings Recipe is an all time favourite. The combination of the sticky, moist date puddings with the sweet and decadent dairy-free caramel sauce is just to die for!
7
Easy Vegan Lemon Tart
The classic Lemon Tart has always been a staple in my house. The super tangy dessert is always a hit, even when the Lemon Tart is Vegan, Dairy Free and Eggless!
8
Vegan Pumpkin Pie Cheesecake with Toffee Sauce
A cheesecake answer to pumpkin pie. This dessert has a nutty biscuit base contrasting perfectly with the smooth creamy pumpkin spiced vegan cheesecake topping, drizzled in a two ingredient toffee sauce. A beyond heaven dessert for your Thanksgiving
9
Swedish-style Apple Pie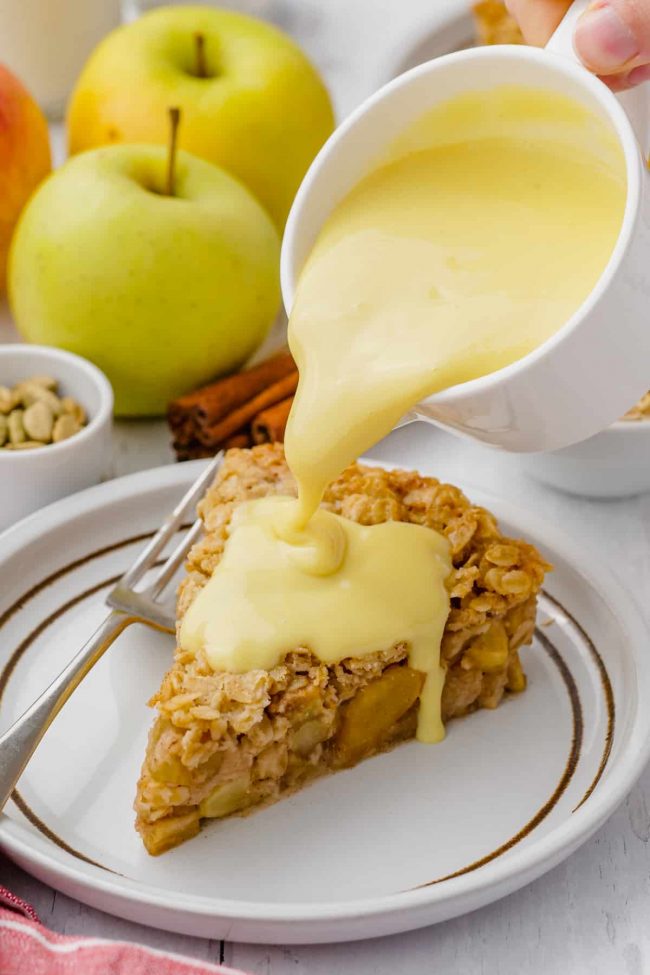 This Swedish apple pie is similar to a crisp and has an amazingly easy topping. It's my most-requested Thanksgiving dessert and as a bonus, is gluten-free, vegan and dairy-free. It's perfect with ice cream, vanilla sauce or custard on top.
10
Pumpkin Cheesecake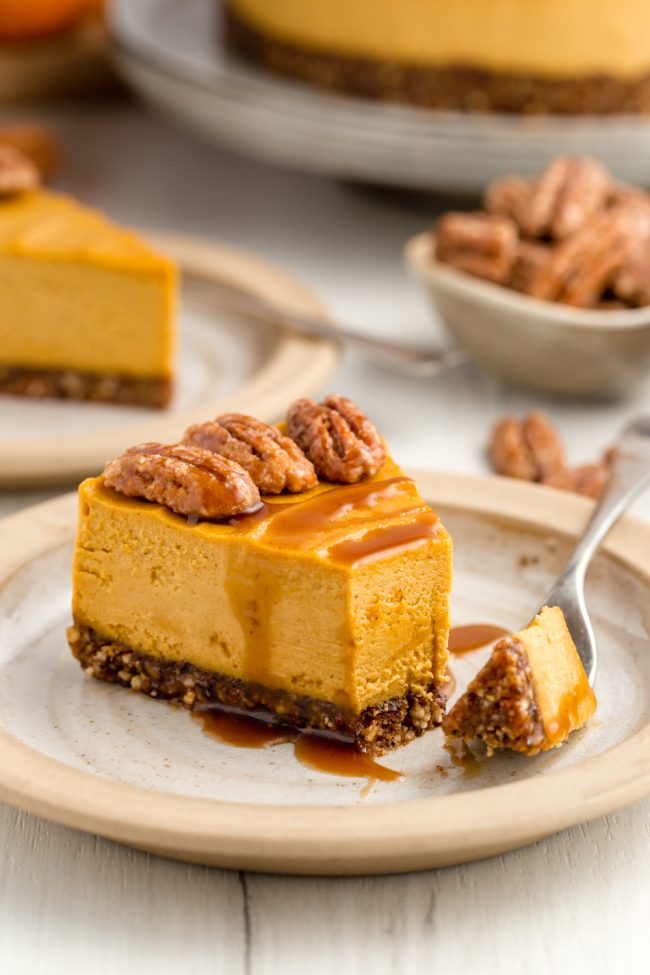 This vegan pumpkin cheesecake is also paleo, no-bake and super creamy. It really tastes similar to a traditional pumpkin cheesecake!
11
Vegan Baked Pumpkin Cheesecake (Gluten-Free)
This Vegan Baked Pumpkin Cheesecake is rich and creamy, subtly spiced, and covered in a silky salted caramel sauce. It's perfectly sweet, a little tangy and has a crunchy, "buttery" crust! It's gluten-free and refined sugar free too. A great make-ahead dessert for Thanksgiving!
12
Apple Crumble Tea Cake (vegan)
Moist and melt-in-your mouth vegan apple tea cake with a delectable pecan crumble. Can be made gluten free, nut free and refined sugar free!
13
Easy Vegan Apple Loaf
Fluffy and moist easy vegan apple loaf. Delicious topped with yoghurt and caramelised apples! Gluten-free and refined sugar free variations.
Vegan Thanksgiving Sides – Veggies
14
Maple-Mustard Roasted Carrots & Apples
Maple-mustard roasted carrots and apples make a decadent side dish. Apples and carrots are tossed with maple syrup, Dijon mustard and aquafaba to create an easy and delicious oil-free recipe.
15
Mashed Carrots With Cinnamon and Brown Sugar
Bring something a little different onto your Thanksgiving dinner table with a side of mashed carrots with cinnamon and brown sugar. Made with 8 plant-based ingredients and everyday kitchen equipment.
16
Quinoa Stuffed Acorn Squash (Vegan & GF)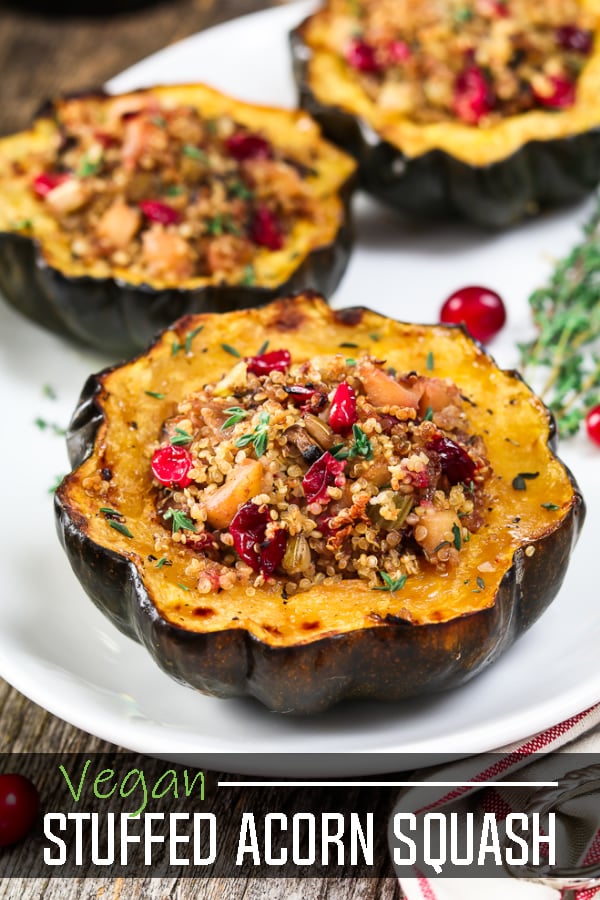 An all in one meal, this Stuffed Acorn Squash is filled with so much savory flavor from sautéed onions, celery, mushrooms, and warm spices. Then it's balanced out with subtle sweet and tarts flavors from apples and cranberries. The quinoa gives it a nice texture and lots of added protein. It's heavenly!
17
Vegan Corn Casserole in the Slow Cooker
This vegan corn casserole is a plant-based take on the classic cornbread casserole made in the slow cooker. It's creamy, delicious, and dairy-free. It's so easy to make too! Just blend up the silken tofu mixture, melt the vegan butter, and dump all the ingredients into your slow cooker.
18
Savory Sweet Potato Casserole (Vegan)
This vegan savory sweet potato casserole is a rich and decadent dish that will add an elegant touch to your family's table. It is made with coconut milk and infused with sage and rosemary.
19
Vegan Sweet Potato Casserole with Marshmallow (Gluten-Free, Allergy-Free)
This super easy Vegan Sweet Potato Casserole with Marshmallow topping is a healthier twist on the classic Thanksgiving side dish! A sweet holiday favorite that's gluten-free, allergy-free, sugar-free, and optionally paleo! Smooth, mashed sweet potato topped with homemade marshmallow fluff, and baked to perfection!
Vegan Sides For Thanksgiving – Greens
20
Maple Balsamic Roasted Brussels Sprouts (Oil-Free)
These Maple Balsamic Roasted Brussels Sprouts are crispy, beautifully caramelized, and full of rich flavors. A perfect Thanksgiving side dish.
21
Roasted Brussels Sprouts with Apples
With crispy, crunchy brussels sprouts, tart apples, and sweet pomegranate, this is a delicious, well-balanced side dish. Perfect for any vegan Thanksgiving!
22
Roasted Brussels Sprouts with Butternut Squash
The best balsamic-maple roasted Brussels sprouts with butternut squash, pecans, cranberries and avocado roasted garlic dressing. Ultimate healthy vegan Thanksgiving side dish ready in just 40 minutes!
23
Vegan Fall Harvest Salad with Kale and Pumpkin
Light and healthy vegan fall harvest salad is as satisfying as it is nutritious: crunchy kale paired with sweet pumpkin, tart Brussels sprouts, crisp apples and pomegranate seeds all merged together with delicious homemade maple-mustard dressing. Perfect Thanksgiving harvest salad that everyone will love!
24
Rustic Rosemary Thyme Mashed Potatoes (Gluten-Free, Vegan, Paleo)
An easy and delicious dinner side dish recipe for Rustic Rosemary Thyme Mashed Potatoes! They're gluten-free, vegan, paleo, and allergy-free; perfect for the holidays or as a simple healthy take on some good ole' comfort food!
Vegan Thanksgiving Side Dishes – Potatoes
25
Vegan Mashed Potatoes
There's nothing as satisfying as good mashed potatoes made from scratch. And they're even tastier without the dairy. These come out so smooth, fluffy, and just downright delicious, and they take less than 30 minutes to make. They'll be a hit on your Thanksgiving dinner table.
Don't forget to grab the recipe for my Easy Vegan Gravy!
Vegan Thanksgiving Recipes – Mains
26
Vegan Turkey
This vegan turkey for Thanksgiving is a special holiday main course made from wheat gluten and seasoned with traditional herbs such as rosemary, parsley, sage, and thyme. It's so delicious with gravy and other vegan Thanksgiving sides!
27
Vegan Cauliflower Lentil Loaf
A hearty plant-based dinner idea that will satisfy even meat-eaters! A Vegan Cauliflower Lentil Loaf that mimics the classic meatloaf with no meat, gluten-free, nut-free, and soy-free! Get all your protein and veggies in this healthy recipe!
28
Vegan Mushroom Bourguignon Pie
This mushroom bourguignon pie is the perfect centre piece. Mushrooms in a delicious rich red wine sauce, with crunchy vegan-buttery pastry! It makes for an unforgettable vegan thanksgiving
29
Mushroom Wellington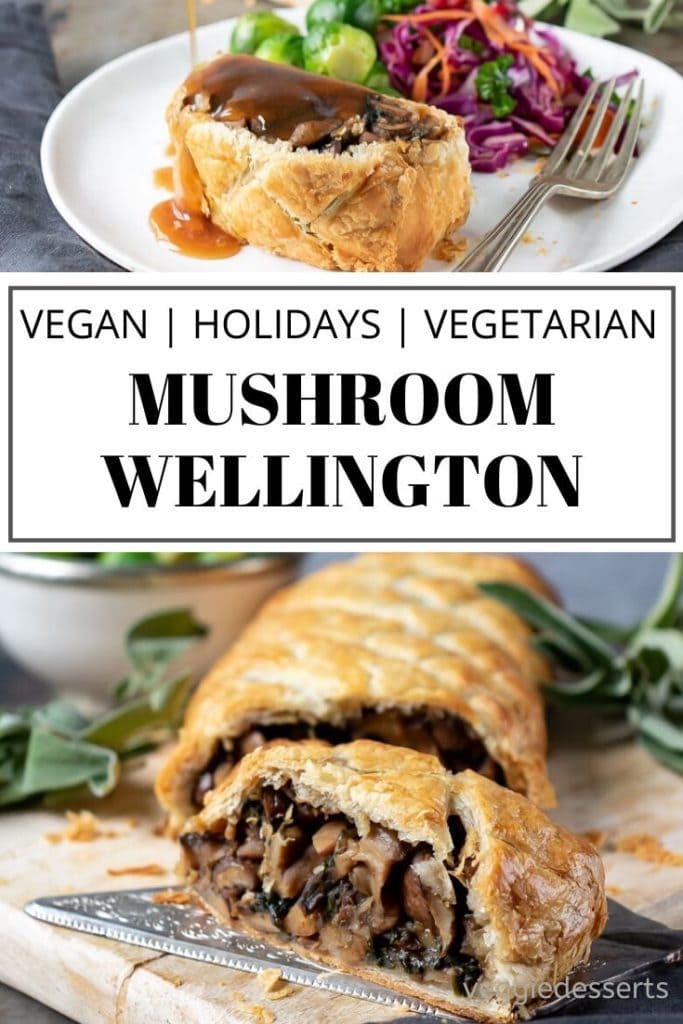 Mushroom Wellington is a flavor-packed, easy and showstopping vegan or vegetarian main dish. You can make it ahead, and it's perfect for the holidays.
30
Vegan roasted pumpkin alfredo
Vegan roasted pumpkin alfredo topped with toasted walnuts and crispy sage leaves. The recipe is minimal fuss but has maximum flavour!
Vegan Thanksgiving Sides – Stuffing, Rolls, & Bread
31
The Best Gluten-Free Vegan Stuffing
Thanksgiving is never complete without some of The Best Gluten-Free Vegan Stuffing! Impress your guests with this essential side dish recipe that's safe for all food allergies, loved by all, and may just become the new star of the show!
32
Pumpkin Dinner Rolls (vegan)
These soft and fluffy pumpkin dinner rolls are easy to make and always a hit at Thanksgiving dinner. Their sweet buttery taste undeniable!
33
Vegan Dinner Rolls
Nothing beats the simple pleasure of warm homemade bread for a holiday feast!